Ranger Roy's Summer Travel Tips
Howdy folks! Well bless my aunt Myrtles heart! My cousin Ray and I just got back from a big family shindig down in Beaumont, California. My great uncle Bertrand P. Diggsworth threw the biggest darn retirement party I've ever seen. There were so many relatives and friends arriving on their ranch they had to hire extra hands to direct traffic; orange cones and orange vested men were everywhere!
When I travel to Beaumont, I usually stay with aunt Myrtle and uncle Bert in their big ranch house. Of course with all the folks coming in for the celebration, the house was filled to the brim. My Wisconsin cousins and their families had cots and beds everywhere. I don't think we could have squeezed in even on the back porch by the pot-bellied stove. Given the situation, Ray and I decided to stay at a hotel.
When we received Bert's retirement party announcement, I began looking for the best place to stay. There are some important tips I've picked up since working at the Best Western PLUS Forest Park Inn. I've learned that there are several things to look for when booking a hotel room. For instance, the average breakfast for two can cost around $25 at a decent restaurant; looking for a hotel that serves a hot breakfast not only saves money, it's convenient as well.
Here are a few more things to look for when booking your travel this summer: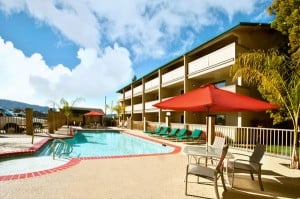 – Some hotels only offer stale pastries and coffee. For the best complimentary food, look for menu items that have healthy options: fresh fruit, yogurt, eggs, etc.
– Many hotels don't offer free Internet service. Look for hotels with free wireless Internet or a business center. Even when you travel for pleasure you may want to keep up with email or post all your photos so your friends get see how much fun you're having.
– After a long day of travel, the last thing you want to do is drive around in the dark trying to find a place to eat. Look for hotels that have nearby restaurants that serve the kind of food you like.
– Summer travel can be hot in many parts of the country. One of the best amenities is a pool and spa. Not only will you be able to cool off with a quick dip or relax in the spa, if you travel with kids, it's a great way to keep them entertained.
– I look for hotels that have a fitness center since I always tend to overindulge a bit when I travel. It helps me work off those extra calories.
Well folks I had the best time at Bert's retirement party. Beaumont will be talking about that celebration for a long time! If you have travel plans coming up this summer, I hope you find these tips helpful and you have lots of fun. Until next time, this is Ranger Roy wishing you happy travels and eat lots of garlic!
Written by Laura Wrede, Gilroy freelance writer and photographer.