Book Your Hotel in Advance – Planning Makes Smarter Travel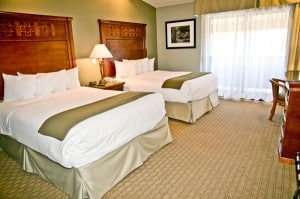 Most of us have thrown caution to the wind and jumped in our cars for a spontaneous road trip. No travel plans. No agendas. No worries. In theory it sounded fun and carefree, but sometimes ended with unwanted results. Travel smart in 2013 by planning ahead. You will usually have a much more enjoyable trip.
For instance, waiting until you arrive at a destination to find lodging can be disappointing. Hotel rooms may be booked in advance especially in larger cities with heavily attended tourist venues. Even smaller cities might be booked due to a popular local annual event. For instance, here in Gilroy, CA our Best Western PLUS Forest Park Inn will often fill up quickly for our annual Garlic Festival in July.
Planning ahead will also allow you to check out the amenities in a hotel room prior to booking. It can be a regrettable situation when you discover the only hotel is located next to a train track or the nearest vegan restaurant is twenty miles away. Booking your hotel ahead, answers your questions ahead of time. You will have the chance to find the one with amenities important to you. Have fun on your next trip by planning ahead.
Written by Laura Wrede, Gilroy freelance writer and photographer